We are excited to announce the launch of J-Givable, a platform for Jewish members of our St. Louis Community. A partnership with The Jewish Federation of St. Louis and Givable, members sign on for a monthly subscription similar to the Givable platform, and are given two Jewish projects to choose from every Tuesday and Thursday. Members give as little as $1 to the project of their choice.
rn
rn
rn
J-Givable is a unique opportunity for Jewish individuals and families put their values into action. There are more than 50 local Jewish projects right here in St. Louis. If everyone gives as little as $1 to the projects they care about, J-Givable can create real change for the Jewish community.
rn
rn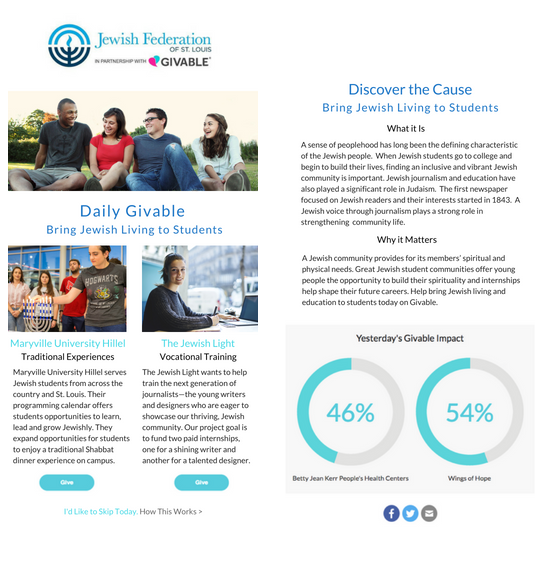 rn
rn
Our hope is to educate and inspire Jewish giving for projects big and small that need a little push. J-Givable partner Michael Staenberg says, "just like Givable, this way of giving as a community inspires people to be a part of something bigger and shows that a little change can make a big difference."
rn
rn
rn
The first J-Givable project focused on Pittsburg where a mass shootings took the lives of 11 Jewish community members. Like people all across the country, our St. Louis community wanted a way to respond and help those in Pittsburg, and J-Givable made it easy to be a part of the bigger Jewish world. Most often, the J-Givable projects are local – from providing new chairs for a synagogue, to a cooking classes for Jewish teens. The projects aim to educate and inspire the Jewish community.
rn
rn
rn
Any organization is welcome to submit projects to the J-Givable team. If you have any questions, contact us at stl@givable.org. We encourage all members of the Jewish community to g
ive J-Givable a try for just $11 a month. Click here to sign up, and support local Jewish projects today!
'